Our Software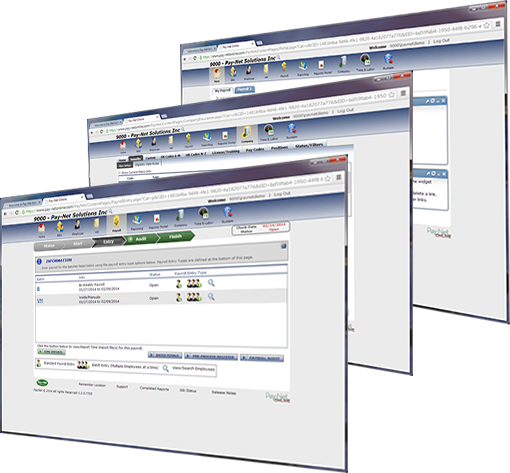 Pay-Net's software uses the latest operating systems and SQL database technology. The software is designed specifically for the Windows 2000™ family, Windows XP™, Windows Vista™, Windows 7™, and Windows 8/8.1™.
This allows for virtually unlimited data storage and access, and extraordinarily flexible data integration capabilities. Our software also supports a client/server architecture, allowing for more network users without the loss of performance found in other systems. Database-independent architecture allows the ability to change the back-end database without changing any of the functionality of the system. The result is one of the most powerful payroll and human resource systems on the market today, and the flexibility to grow with new technologies.
Our software is "feature-rich" that will satisfy any client's requirements for payroll processing as well as human resource tracking. Some of these features include:
Payroll Features:
Interactive, real time, data base updates

Supports multiple pay rates for employees

Support for labor distribution, including earnings and deductions.

Employee and employer taxes are distributed.

Support for all types of "tax implicated" deductions including Section 125, 129, 401k, 403b, 408k, 457, or 501c

Support for automatic labor distribution

Allows for "automatic" pay items

Allows for unlimited, frequency dependent, earnings or deductions

Support for 52 state taxation plus unlimited local taxation

Supports unlimited direct deposit accounts for employees

Allows for 401(k) administration

Allows for time off accruals

Complete on-line pay history for each employee with complete check details

5 User defined organization structure levels (locations, branch, department, etc.)

Supports job costing and certified payroll reporting

Supports third party, or agency, check creation for deductions (garnishments, etc.)

Supports multiple company bank accounts

Supports "pre process" reporting - see your complete payroll, including gross-to-net, before processing

Supports manual check printing at user site

Over 120 standard reports

Date control on pay rates, other earnings, deductions, etc.

Enter changes in advance and system will automatically change when the date is reached.

Paychecks can be signed, stuffed into envelopes.

Company logos can also be printed on the checks.

Supports data import into the payentry process

Supports data export into Excel, Word, ASCII, etc.

Complete security features

Employees can be sorted in any order

Union tracking and reporting



Human Resource features:
Fields available for tracking include performance reviews, rate changes, time off benefits, education levels, skill and position tracking, insurance plans, dependents, emergency contacts, previous employment, EEO1 reporting, termination reasons, skill codes, employee types, plus many other fields including any user defined fields.

External documents can be linked within the software to a particular employee, for example, W-4 forms, employment applications, disciplinary letters, etc.



Reporting features:
Pay-Net's software is specifically designed to work with Crystal Reports 11®, from SAP®. Using this powerful report writer allows for creation of very elaborate reports; Every report in our system is produced with Crystal Reports®. This allows the users to customize any report with minimal effort and maximum flexibility.
The seamless integration of Crystal Reports® into our software allows us to customize the reports on-the-fly, based on company-specific criteria or ad-hoc user requests. In addition our software comes with a built-in report writer that will allow the user to build their own simplified reports.
Since an industry standard open architecture is used, end-user reports can be produced with most Microsoft® Windows™ compatible report writers. Our software can be configured to execute reports created by other report writers; Although we have less direct control over other report writer's functionality, the users' favorite report writer can still be integrated with our software.